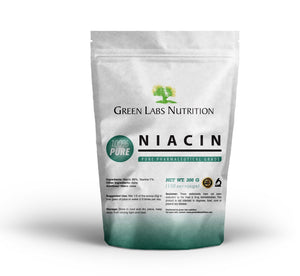 FREE PRECISE SCOOP INCLUDED
THIS VERSION OF NIACIN GIVES "FLUSH" EFFECT" ON THE SKIN AFTER CONSUMPTION 500mg AND MORE.
Niacin, also occurring often under the term of vitamin B3 or PP, is a term that includes two chemical compounds: nicotinic acid and its amide, also called nicotinamide. The substrate in the production of vitamin B3 is tryptophan, an organic chemical compound that fits into the group of protein amino acids. Unfortunately, the amount of self-produced niacin is too low to cover the daily need for the average person. What's more, the tryptophan itself is an exogenous amino acid, i.e. unable to be produced by our metabolism. Therefore, vitamin PP should be supplied with food. Niacin is above all one of the elements forming two extremely important coenzymes: NAD and NADP. Each of them, through the connection with the protein, produces an enzyme called oxidoreductase. In turn, oxidoreductase is a compound that has an indissoluble effect on the metabolism of all the basic macronutrients of our food - proteins, fats and carbohydrates.
Niacin supplementation also benefits the immune system. Studies show that the systematic use of vitamin B3 leads to an increase in the number of neutrophils. These are white blood cells that allow the destruction of pathogenic microorganisms in the form of bacteria. Vitamin PP also leads to improved functionality of the central nervous system. The increase in activity in the mitochondrial nuclei, which are found in the nucleus accumbens, contributes to the improvement of the mental condition of a human being, which is manifested in: increased self-confidence, reduced effects of perceived stress and reduced anxiety. Systematic use of niacin will result in:
- Normalization of production and secretion of gastric juice;
- Increased detoxification mechanisms;
- Participation in the production of certain hormones (eg insulin, thyroxine);
- Participation in the synthesis of red blood cells;
- Improve the condition of the skin, hair and nails;
- Limiting LDL cholesterol and increasing HDL cholesterol.