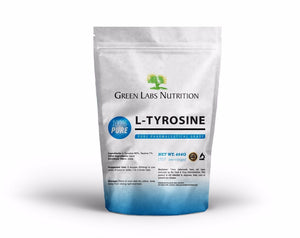 FREE PRECISE SCOOP INCLUDED
L-tyrosine is one of the 22 amino acids that build muscle proteins.
In our body acts as a precursor of the synthesis of neurotransmitters: dopamine, adrenaline and noradrenaline. This has positive effects during increased exercise and fatigue. L-tyrosine belongs to endogenous compounds that are produced in the human body. But to make this possible, our body must have the right amount of another amino acid - phenylalanine. It is considered an essential amino acid. Positive action of tyrosine will be particularly affected by hard-working people, athletes, obese people, but also people who regularly use solariums. In addition, its use is especially recommended for those who need to strengthen their body and also want to effectively combat the appearance of fatigue and stress. Symptoms of low levels of tyrosine can be hormonal changes (hypothyroidism), depression, more difficult to remember information and other mental changes. Tyrosine supplementation is particularly useful in people with excessive amounts of dopamine.
Tyrosine has many beneficial effects:
- removes physical and mental fatigue caused by prolonged, intense physical activity by maintaining optimum levels of neurotransmitters;
- increases and improves the ability to focus on increased workload at school and workplace, reduced diet and overall exhaustion;
- supports brain function and increases resistance to stress;
- limits appetite.
In addition, this amino acid stimulates the production of melanin, which facilitates sunburn and protects the skin from the harmful effects of ultraviolet radiation.