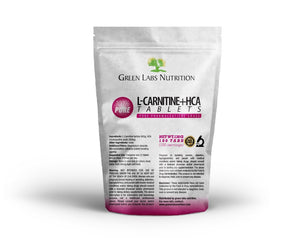 L-carnitine is an organic compound naturally occurring in the human body. Consuming L-Carnitine supports fat metabolism and its use during exercise. It is responsible for the transport of fatty acids inside the intracellular mitochondria responsible for the production of ATP - that is, the use of spare fat as energy for the muscles during the aerobic period.
HCA (Hydroxycytric Acid) inhibits the process of fat deposition.
Inhibition of this process takes place by blocking the enzyme in fat metabolism - ATP-Citrat-Oxalacetat-Lyase. This acid also reduces appetite and allows you to limit the amount of food consumed.
This combination of substances guarantees better effects under the condition of regular physical exercise.
Recommended dosage: Take 1-2 tablets before physical exercise.
A nice form of lozenges to eat
Supports the use of fat as energy for training
It accelerates the metabolism of the body
It limits the formation of new fat cells
It lowers the level of cholesterol