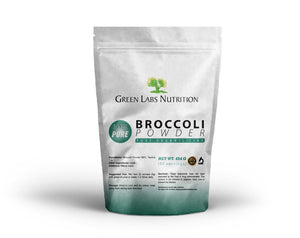 FREE PRECISE SCOOP INCLUDED
Broccoli powder is produced in the process of dewatering at low temperature, it allows to preserve all the beneficial properties of broccoli.
Broccoli powder contains a much higher level of vitamins and minerals compared to ordinary vegetables. Consuming broccoli powder, we can increase almost five times the intake of nutrients typical of ordinary broccoli, which means that 100g of powder corresponds to more than 500g vegetables.
The powder is much easier to consume, it can be successfully mixed with other products, such as spirulina, maca root, spinach powder, etc.
Broccoli powder is very rich in vitamin C, vitamin K, vitamin E, quercetin, lutein, kemferol, selenium, magnesium and zinc. Broccoli powder is a great antioxidant, supports immunity and cleansing the body.
- A huge concentration of nutrients
- Supports detoxification of the body
- Easy to consume with other products