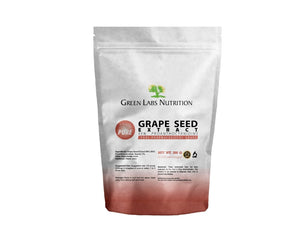 FREE PRECISE SCOOP INCLUDED
Grape seed is the world's richest source of bioactive flavonoids, called oligomeric proanthocyanidin complexes (OPCs). These compounds exhibit multidirectional antioxidant effects, so powerful that the whole organism gains. Grape seed extract is primarily chosen for its excellent cardiovascular effects and as a means of cancer prevention, but the benefits of its use are apparent in almost every organ and organ system in our body. Reducing oxidative stress and regulating metabolism at the molecular level make OPCs significantly affect bone, joint and muscle condition, eye function, immunity, brain function, anti-inflammatory and allergic response, and fatigue and mood.
Proanthocyanidins are transformed into our anthocyanidins and are sugar-free anthocyanins. Anthocyanins and anthocyanidins belong to flavonoids, and they are a category of polyphenols, the general group of bioactive plant compounds.
Today we know a lot about the grape seed extract and flavonoids contained in it. With this research, the extract is widely used to prevent and inhibit abnormal biochemical reactions and aging processes, and to regulate and stimulate beneficial processes that are responsible for metabolism, detoxification, pulse conduction, circulation, cellular respiration and many more.
The lower the level of oxidative stress in the body, and therefore the oxygen free radicals, the better the reactions in our body. Free radicals and oxidative stress build up in our body at all times and are an inherent part of the ongoing biochemical reactions. Free radicals are swept away if we live a healthy lifestyle and we supply a large quantity of plant products to our body, while avoiding alcohol, unhealthy foods and cigarettes. However, the ratio of oxidative to antioxidant reactions is often unfavorable, and if our body is stressed, then the disease is first developed. By supplementing the rich source of antioxidants such as grape seed extract, we gradually reduce the level of oxidative stress in the body, and this results in the inhibition of negative processes.
Proanthocyanidins are an excellent element of early cancer prevention, contribute to the anti-inflammatory response of the body, support the body in fighting bacterial and viral infections, help reduce allergy symptoms by inhibiting histamine and prostaglandin production, promote brain function, improve vision and improve eye health by strengthening the surrounding capillaries and prooxidation retardation in the retina have a positive effect on the structure of the skin, hair, nails, bones, teeth and joints by increasing the level of vitamin C in cells, inhibiting collagen degradation and strengthening its structure, inhibiting the aging process.
In order to improve general health and physical and mental condition
Fatigue and weakness
Convalescence period
Susceptibility to infections
Regular consumption of alcohol, smoking cigarettes
Problems with memory and concentration
Decreased vision
Edema of the legs, feeling of heaviness in the calves
To improve the appearance of the skin, hair, nails