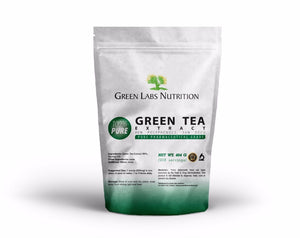 FREE PRECISE SCOOP INCLUDED
Green tea contains healthy polyphenols, including Epigallocatechin 3-gallate (EGCG) is a potent 
antioxidant that has been the subject of extensive research. Its activity is greater about 25-100 times that of vitamins C and E. One cup of green tea supplies approximately 100 mg of polyphenols and produces more antioxidant effects than consuming broccoli, spinach, carrots and strawberries. 
It has been shown that its powdered extract has a 60% -90% better absorption in the bloodstream and bioavailability than its drinking.
Green tea extract provides many benefits including:
Removes reactive oxygen species such as peroxide, hydroxyl and peroxyl radicals.
It has cell membrane support properties.
Helps to lose weight.
Enhances detoxification phase II enzyme activity.
Helps to maintain healthy cell proliferation.
Helps maintain healthy cholesterol, LDL and triglyceride levels.
It strengthens the functions responsible for the body's immunity.
Demonstrates protective effect in brain tissue.