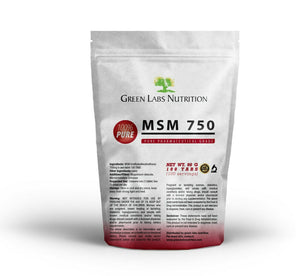 MSM 750mg is a dietary supplement containing methylsulfonylmethane - biologically available sulfur, which in the form of thiol groups is used for the synthesis of collagen, glutathione, enzymes and antibodies.
Methylsulfonylmethane is a chemical compound that belongs to hydrocarbon derivatives, which contains in its structure a sulfuric acid residue. The compound is not synthesized in the human body, hence the need for supplementation.
MSM is found in plants that should be part of the diet.
Inhibition of inflammatory processes, resulting in a decrease in the concentration of proinflammatory cytokines as well as cyclooxygenase-2 (COX-2), responsible for the production of inflammatory prostaglandins.
Inducible nitric oxide synthase (iNOS, found in immunocompetent cells and involved in the generation of free radicals, may also be inhibited).
MSM is also classified as an antioxidant, which coincides with anti-inflammatory effects.
Reducing the concentration of these mediators, whose presence guarantees increased production of free radicals and the induction of inflammation has its effect on the immunomodulatory effect of methylsulfonylmethane, as it prevents the hyperactivity of the immune system. Supplementation with this compound may contribute to alleviating the symptoms of seasonal allergies, which are the result of a malfunction in the immune system.
MSM supplementation reduces inflammation, thereby inhibiting the progression of degenerative disease.
Methylsulfonylmethane has been shown to significantly improve the functioning of the musculoskeletal system. The degeneration of the joint elements is not only reached by the elderly, but also people in the prime of life actively playing sports. Intense effort also causes micro-injuries in the muscles, which is manifested by their pain and discomfort. MSM reduces these negative effects, thus contributing to improving the effectiveness of training.
The positive effect of MSM has also been noticed when it comes to improving skin condition.
MSM 750mg is a supplement designed for active people, doing sports, as well as for those who want to take care of the condition of their joints. The methylsulfonylmethane contained in it will effectively protect the locomotor system against degeneration processes.
MSM 750 is contained in a consumption-friendly tablet form.