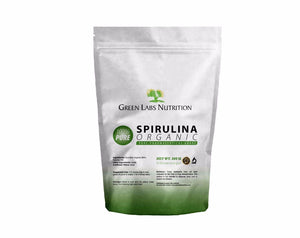 FREE PRECISE SCOOP INCLUDED
Spirulina is a green-blue algae that has undeniable properties that affect the wellbeing of the human body. It is grown in different parts of the world. 
These are selected places because it is where the climate is most conducive. Such places are Asia (China, Taiwan, Japan, India), North America (Hawaii), 
South America (Mexico), and Africa (Chad).
However, regardless of where Spirulina comes from, it is important to check that it comes from the manufacturer who has the necessary certificates 
and patents. We know that it does not save on the quality of our products, so we can use all the properties of Spirulina.
Spirulina is currently the most studied plant, alongside its cousin Chlorella algae. In recent times, more and more are talking about her, 
as a very valuable Superfood. It is famous for its intense flavor and even more nutrient elements easily absorbed by the human body. 
Spirulina is made up of a variety of cocktails, energy bars and natural dietary supplements. Recognized regularly can rebuild and improve our organism 
in a very significant way. To date, there are almost 1200 scientific articles that assess and confirm the properties of spirulina.