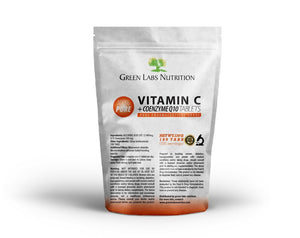 BEST COMBINATION OF ANTIOXIDANTS ON THE MARKET
EACH TABLET CONTAINS 900mg OF ASCORBIC ACID (VIT C) AND 100mg OF Q10 CONEZYME
Coenzyme Q10, also called ubiquinone, is a substance necessary for the functioning of each of our cells. Coenzyme Q10 is involved in the process of energy production in cells, improves their oxygenation, protects against the damaging effects of free radicals.
As an antioxidant, Coenzyme Q10 prevents the formation of cholesterol deposits in the arteries. The remarkable property of Q10- it not only counteracts negative changes, but also is able to eliminate them.
Coenzyme Q10 supports organism in many serious diseases:
circulatory insufficiency,
ischemic heart disease,
hypertension,
atherosclerosis,
periodontitis,
some muscle diseases,
Type II diabetes,
Parkinson's disease,
Alzheimer's disease.
Vitamin C also known as ascorbic acid,  one of the most effective and safest nutrients.
Vitamin C is a powerful antioxidant, it helps for the synthesis of collagen, during this process blood vessels and body muscles stays strong and flexible. Vitamin C needs to be received through food and supplements, human body can`t synthesize Vitamin C by itself.
·        Helps in lead toxicity
·        Some studies have shown that increased consumption of vitamin C is connected with a decreased possibility of cancers of the lungs, mouth, vocal chords, throat, colon, rectum, stomach, and esophagus)
·        Combats stroke
·        Improves mood
·        Boosts immunity
·        Repair wounds